If you're buying a new truck and considering getting the factory tow prep option, read this blog first!
While it may be convenient to get the tow prep done at the dealership when you purchase your truck, you may get more than you bargained for…more holes, that is! They will put five large holes in the bed of your truck, even if you only need one! This equals more expense. In addition, the tow prep option is only for mounting the holes. It does not include the ball, the safety chains or the bag to store the ball when you aren't using it.
While more is better when it comes to catching fish, vacation days and good buddies, it's not so when it comes to holes in your truck or the number of dollars it takes to get the job done.
B&W Trailer Hitches has a better option called the Turnoverball gooseneck hitch. With this hitch you'll only get as many holes drilled into your truck as you need and not a single one extra! B&W products are all proudly made and distributed in the USA, so you know you're getting a quality product. And just like the name implies, with this product you can turn the ball over and conveniently store it right there in the bed of the truck. Brilliant!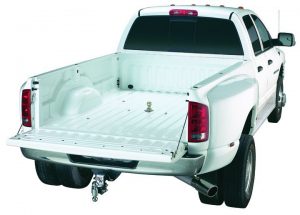 At Toppers & More, we specialize in truck and towing accessories and have been highly recommending B&W towing products for years. We are big fans of the Turnoverball gooseneck hitch for good reason…six reasons actually!
1. Quality hitch and product
2. Reputable, trustworthy company
3. Quiet and smooth ride
4. Requires minimal drilling
5. American made
6. Convenient ball storage right in the truck bed!
Request a Free Quote on a B&W Turnoverball gooseneck trailer hitch or just about any other truck or towing accessory.
You can also visit our HUGE showroom located at 1000 9th Ave S in South St Paul or give us a call at 651-451-1808. Our friendly staff is ready to get you outfitted with everything you need for your truck and trailer to hit the dusty trail!