All Model Tonneau and Truck Bed Covers
From Toppers & More
Your Home for Tonneau and Bed Covers in Twin Cities MN
Toppers & More is your home for Tonneau Covers from all the leading manufacturers. We always carry Extang Truck Covers, A.R.E. Tonneau Covers, Ranch Brand Covers and many more.
Access Truck Covers
Visit Access's Website >>
The Access® Roll-Up Covers offers the best of both worlds. Their patented style and design make their tonneau covers durable and longer lasting but with a price any cost conscious consumer can appreciate.
TruXedo Roll Up Covers
Visit TruXedo's Website >>
TruXedo, Inc. manufactures pickup truck bed tonneau and tonno covers, pickup truck accessories, and tonneau – tonno truck bed cover products. Since the introduction of the Original TruXedo® in 2000, TruXedo, Inc. has led the industry with new and innovative tonneau covers.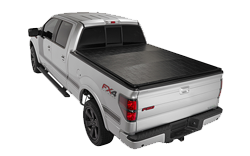 Lund Series Truck Tonneaus
Visit Lund's Website >>
LUND tonneau covers are manufactured to install easily and withstand the harshest elements while protecting and concealing the truck bed's contents as well as reducing drag and increasing fuel economy.
Roll-X Truck Covers
Visit Roll-X's Website >>
The Roll-X tonneau cover is probably the greatest advancement in a tonneau cover design since the invention of the BakFlip. Much like the BakFlip, the Roll-X is a rock solid hard tonneau cover that gives you full unobstructed use of your entire truck bed.
Extang Roll Up Truck Covers
Visit Extang's Website >>
Above the rail, custom tapered, aerodynamic design provides for superior performance. Built Extang Tuff to repel water and protect your truck bed and cargo from the elements, no matter what the weather.