All Model Tonneau and Truck Bed Covers
From Toppers & More
Your Home for Tonneau and Bed Covers in Twin Cities MN
Toppers & More is your home for Tonneau Covers from all the leading manufacturers. We always carry Extang Truck Covers, A.R.E. Tonneau Covers, Ranch Brand Covers and many more.
Access Truck Covers
The Access® Roll-Up Covers offers the best of both worlds. Their patented style and design make their tonneau covers durable and longer lasting but with a price any cost conscious consumer can appreciate.
TruXedo Roll Up Covers
TruXedo, Inc. manufactures pickup truck bed tonneau and tonno covers, pickup truck accessories, and tonneau – tonno truck bed cover products. Since the introduction of the Original TruXedo® in 2000, TruXedo, Inc. has led the industry with new and innovative tonneau covers.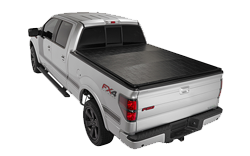 Lund Series Truck Tonneaus
LUND tonneau covers are manufactured to install easily and withstand the harshest elements while protecting and concealing the truck bed's contents as well as reducing drag and increasing fuel economy.
Roll-X Truck Covers
The Roll-X tonneau cover is probably the greatest advancement in a tonneau cover design since the invention of the BakFlip. Much like the BakFlip, the Roll-X is a rock solid hard tonneau cover that gives you full unobstructed use of your entire truck bed.
Extang Roll Up Truck Covers
Above the rail, custom tapered, aerodynamic design provides for superior performance. Built Extang Tuff to repel water and protect your truck bed and cargo from the elements, no matter what the weather.
Truck Cover USA
Truck Cover USA cover's are designed to expertly fit virtually every make and model of pickup truck sold today. Their roll cover has been uniquely engineered to adapt to roll bars, and accommodate both factory and aftermarket accessories. Simply stated, the covers will fit your truck like a glove!
Pace Edwards Truck Covers
Hard tonneau covers retacts out of the way into canister at the front of the truck bed. Weather-resistant padded polymer laminated to rigid aluminum panels that glide along black powder-coated side rails.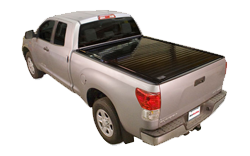 Retrax
The Retrax retractable pickup bed covers are manufactured from polycarbonate, a durable thermoplastic commonly known as LEXAN®.  This low-profile design incorporates a front cover that is flush with the truck bed cover.
Roll N' Lock
Roll-N-Lock®, the most advanced retractable truck bed cover made, has redefined the rules for truck bed security. From its retractable function, which permits opening or closing in literally seconds, to its rigid, this hybrid cover offers everything other covers do not.
A.R.E. Truck Bed Covers
ARE Truck Tonneau Covers offer a premium fit, plus extra top of the line features, including remote keyless entry and an extra bright interior LED light. They add beauty to your truck, provide a water-resistant and secure storage area and increase your vehicle's gas mileage.
Ranch Truck Bed Covers
Ranch Truck Lids are very impressive style lined fiberglass lid. These painted fiberglass covers have a little extra styling to catch your eye. The style lines in the mold are consistant regardless of your truck.
ATC Truck Bed Covers
Some call it a truck lid. Some call it a tonneau cover. Whatever you call it, ATC Truck Covers is the top choice for premium fiberglass truck lids. Truck owners keep coming back to us for our quality fiberglass tonneau covers because of their great look, easy installation and great value.
Undercover Bed Covers
At UnderCover their focus is on Quality.  Not just perceived quality, but real quality. the kind that takes real assets and hard work. Moreover, it takes a commitment to excellence to achieve that quality.
TrailFX Truck Bed Covers
TrailFX hard tonneaus are constructed of a heavy-duty full black aluminum sub-frame. They feature a sleek profile that wraps over the truck rail and includes rubber on the sub-frame, hinges for side-to-side adjustment and a lift-assisted package for ease in opening and closing.
BakFlip Folding Bed Covers
The BAKFlip® Tonneau Cover / Truck Bed Cover is the NEWEST GENERATION of hard, folding multi-panel tonneau covers!  Enjoy all the security of a locking hard tonneau cover and have instant access to your entire truck bed!
Undercover Flex Truck Bed Cover
At UnderCover their focus is on Quality.  Not just perceived quality, but real quality. the kind that takes real assets and hard work. Moreover, it takes a commitment to excellence to achieve that quality.
Extang Folding Cover
Extang's tri-folding hard lid tonneau cover. Installs in seconds!! No tools required.
Fastest installation and removal of any hard tonneau on the market. Tonneau is completely assembled, no spare parts or tools required.
Lund Folding Truck Covers
The Lund Tri-fold tonneau cover is a low profile, highly durable folding bed cover is a great addition for your truck. Not only does it give you the protection and functionality you need, but also provides your truck with a sleek low profile cover