There are so many options when choosing a truck topper. We would like to discuss the different types of truck toppers and the advantages of each.
Fiberglass Toppers:  Sleek look & best warranty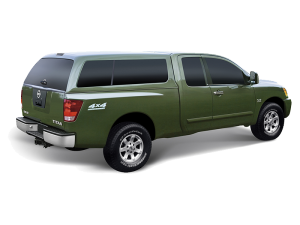 The custom fit of a fiberglass topper will give your truck the best look. From a great basic truck topper like the RANCH ECHO or the ATC EXPRESS to the top of the line A.R.E. Z Series with all the bells and whistles, there are a lot of choices. Getting a paint-to-match finish is included in the price, and they have the longest warranty of all the topper types, which is likely why this is the most popular choice amongst truck topper buyers.
Aluminum Toppers:  Lower cost & lighter weight
Aluminum toppers are lighter weight and lighter on the pocket book. Aluminum toppers still have a variety of choices in window styles and colors. They come in standard colors but can be painted to match for an extra fee. If price and/or weight are your biggest deciding factor(s), aluminum will cost and weigh the least.
Commercial Toppers: Heavy duty, custom boxes & shelving
If you're in the trades, consider a commercial unit, such as the DELUXE COMMERCIAL UNIT (DCU) by ARE or the PRO SERIES by UNICOVER. These are custom built and are made of a heavy grade aluminum. Lighting, shelving, cubbies, ladder racks, etc. can all be added and placed just where you need it.
Toppers & More in South St Paul is your go to place for anything topper related. Do you have a used topper to sell or trade? We can help you with that. We buy and sell ARE, Jason, LEER, Unicover, Ranch, ATC and more.
If you are in the Minneapolis/St Paul area come check out our huge showroom and sales lot. We have hundreds of truck toppers to look at! Our friendly, knowledgeable staff is available to answer any questions you may have. If you can't make it to the showroom, browse our website, give us a call at 651-451-1808 or Contact Us.