With the warming weather, you might notice that you are getting in and out of your truck more often, which can cause increased wear and tear on your truck's interior. This, accompanied with any dirt or debris you drag in after a hard day's work – or play! – can wreak havoc on the seats and floor of your truck. Here are some truck accessories you will want for the inside of your vehicle.
Custom Seat Covers – An easy way to update your interior!
A seat cover is the best way to keep your seats in tip-top shape for the long haul. A custom seat cover is an even better way to protect the inside of your truck. We carry a variety of different brands, with many colors and styles to choose from, but Ruff Tuff is our most popular brand. These seat covers are made in the USA and hand sewn for every order placed: they are the definition of quality and durability.
You get to decide what your Ruff Tuff seat covers look and feel like, with options ranging from Velour, Tweed, Neo-Supreme, Carbon fiber, Sof-Touch simulated leather, Perforated Sof-Touch (good for temperature controlled seats!) and Dura EZ care, and patterns including exotic, mossy oak, Realtree and Kryptek; the possibilities are endless! Ruff Tuff gives you the ability not just to protect your seats, but to give the interior an updated look and feel, all in one great product!
Unlike some other brands, these seat covers are custom made for your specific truck. They are meant to fit like a glove, and won't slip off during use, which can be the case with universal seat covers. Ruff Tuff covers will not disappoint. They are made in the USA, offer endless color combinations and custom fit design: they will fit better, look better and last a whole lot longer than any typical seat cover on the market.
Floor Liners – Vital Protection where you need it most!
The floors of your truck are more susceptible to dirt, debris and water no matter the season, and it is vital to offer these surfaces extra protection in the form of high quality floor mats and liners. We carry many different brands, but WeatherTech and Husky X-Act Contour are two of our most popular.
Both Husky and WeatherTech are measured and made to fit to your specific model of vehicle, and to cover every bump and cranny your vehicle was designed with. They are both made of high quality, high density material that is constructed to last through years of use and exposure to water, dirt and debris. They both provide a raised edge to help contain any mess from spoiling your vehicle's floor, and underside gripping structures to keep the mats from sliding around under foot.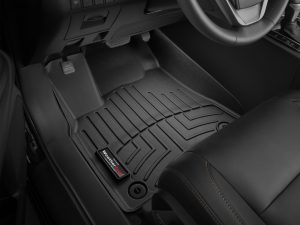 While these two brands might be similar, they do have a few key differences. First is how they feel. Husky X-Act Contour floor liners are made of a more pliable rubber, whereas the WeatherTech floor liners are made of a much more rigid plastic. Husky liners are made right here in the USA, and include a lifetime guarantee. They are also only available in the color black. WeatherTech provides a limited, lifetime warranty on their product, and you can pick between four colors: cocoa, tan, black and gray. Whichever brand you choose, you will find that the floor of your truck will be protected from dirt, water and debris that are tracked inside.
If you would like to learn more about interior truck accessories, including, but not limited to, seat covers, floor liners and mats, please visit our showroom in South St Paul where we have many of these products on display, call us at 651-451-1808 or Contact Us for more information.