Truck Caps
From Toppers & More
Your Home for Truck Toppers in Minneapolis & South St Paul MN
Toppers & More offers a full product line of A.R.E, ATC, Unicover and Ranch truck caps and toppers.
A.R.E. Truck Caps, Covers & Toppers
Vist A.R.E.'s Website >>
A.R.E. has always taken pride in providing the highest quality products possible. Their commitment to a higher quality standard was established at the founding of the company in 1969 and has remained a highest priority. Today, more than ever they recognize that their customers work hard for their money and deserve the best value possible when buying one of their products. With this in mind, they continue to strive to maintain their commitment.
ATC Truck Toppers, Covers & Caps
Visit ATC's Website >>
ATC American-made products are produced in an environmentally-friendly plant outside of Kansas City. Our plant opened in the Fall 2011 with the latest technologies. Our processes, new plant and great workforce enable us to produce quality products for less. You'll see the value and savings reflected in every ATC Truck Cover product.
1600 Raised Roof
The ATC Truck Covers LED Raised Roof Series is a mid-rise model that is styled for both work and play. The LED Raised Roof provides extra height from front to rear and features a large rear door for camping or loading cargo.
LED Cab Hi
The ATC Truck Covers LED Series features a smooth roof design with an integrated LED brake light that offers a truly unique look. Also standard on the LED are side sliding windows with 1/3rd vents and a choice of front sliders or fixed windows. A framed rear door with double T-handles provides extra security.
LER Cab Hi
The ATC Truck Covers LER Series blends the automotive styling of an SUV with the rugged looks of a pickup for a unique package that will turn heads. Curved glass that pops out in the rear for ventilation and is oversized for maximum visibility, plus an all glass rear door with rotary latches are features of the LER300.
Ranch Truck Caps, Toppers & Covers
Vist Ranch's Website >>
Ranch Fiberglass is always striving to put the best products on the market and we want our customers see the qulaity selections available for their trucks.
Echo Truck Cap
The Ranch Echo is our economy line topper that is designed to offer an affordable price point while still offering the basic necessities a canopy, or truck cap, should offer. The Echo is built from the same mold as the Sierra Cab High topper.
Elite Truck Cap
The Ranch Elite is our Premium Cab hi topper. This unit is designed to enhance the looks of your truck while securing, and sealing your truck bed. Soft curves and sleek angles attribute to the overall feel of the finished product. The Ranch Elite is the right look at the right price.
Supreme Truck Cap
The Ranch Supreme is more for your money. This camper shell is designed to provide the space you need. Averaging 9″ above cab level this truck cap is a great mixture of styling and space. If is room you need the Supreme is the cap for you.
Magnum Contractor Cap
The Ranch Magnum is built with the working person in mind. It's convenient tool boxes and extra secure side and rear doors are perfect to keep your tools and equipment dry, secure, and organized. The standard ladder rack holds 250lbs and can be adjusted to better fit your needs.
Sierra Truck Cap
The Ranch Sierra is a true value. Focusing on fit, finish, and standard extra features, this truck cap is built with your needs in mind. Combining great looks and smart structure the Ranch Sierra is the best buy for your buck!
Unicover Truck Toppers, Caps & Covers
Visit Unicover's Website >>
The skilled craftsmen at Unicover have been building superior quality job-site tested commercial truck caps for over 30 years. Combine our unequalled list of standard features with options that satisfy your storage, security, capacity and performance needs and you will have a truck cap that works as hard as you do.
Fiberglass Caps
Fiberglass truck cap models. Unicover fiberglass truck caps provide the stylish features you are looking for. Unicover truck caps will fit any make or model truck and come in all colors. Unicover truck caps come in models that provide greater access, expanded cargo room, recessed dark tint windows, rotary locks, push button doors and much more!
Aluminum Truck Caps
Aluminum truck cap models. Unicover provides various options and features for a variety of applications. Unicover truck caps will fit any make or model truck and come in all colors. This cost effective product line is the perfect solution for your truck fleet.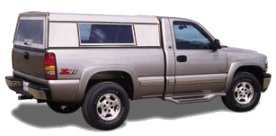 Unicover 100 Model
Offer a screened sliding window centered, providing screened ventilation at an economical price.
Unicover 400 Model
Offers a stationary window and screened sliding ventilation and increased visibility.
Unicover 600 Model
Offers a radious screened sliding window.
Unicover 700 Model
Offers a full vision screened sliding window for maximum visibility.
Unicover 800 Model
Offers a utility door and a screened sliding window for side access and ventilation.
Unicover 1000 Model
Offers 2 utility doors with optional bi-level roof and galvanized steel tool box providing maximum accessibility.
Unicover 1100 Model
Offers two stationary windows and a screened sliding window.
Unicover 1200 Model
Offers a 52″ stationary window for our most economical protection for your truck.